Newsletter

The President Message August 2022

It is with great sadness, that I share with you our Diamond Tread Chapter lost 2 members within 3 weeks, Don Henry on June 24th and Lloyd Ikerd on July 12th.

Don Henry was a long-time member of our chapter and offered his family members his Model As to drive on tours in his later years. He treated our chapter to gatherings at the Naples fountain for pizza and celebrations. I loved those shirts Don gave to us from time to time. He would toss the shirts down to us from his 2nd floor window… I still wear them today. Don had us do projects on his 29 Woody: bumpers, rewiring, cowl lamps, well you get it. He was truly a grateful man when our Henry Helpers got his Model A's sorted out.

Lloyd Ikerd owned serval vintage cars including a 1930 Mode A Tudor named "A-Bomb". Lloyd will be missed. Lloyd owned Paramount Picture Cars. His business supplied period cars for the movie and entertainment industry. Many Diamond Tread members have had cars at several movie locations thanks to Lloyd's connections. I worked with Lloyd and his team members for several years and was able to drive several makes of cars on location. Lloyd was a very fair man to work for. During the Covid shut down he would call me weekly to see how Bonny and I were doing. He stayed in contact with his work force family and friends up to the last weeks of his very productive life. Lloyd was 84. I continue to work in this business under new ownership. Lloyd, Thank You for teaching me the do's and don'ts of the movie industry. He always answered his phone with "3000". Lloyd's last ride was in his 1951 Pontiac Hurst. I had the privilege to drive Lloyd's 3 daughters in his 1939 Buick 7 passenger limousine. Our Chapter with the Model A's attended his burial service with Lloyd's family, and close friends. I miss you, my good friend.

For the majority of August, Bonnie and I will be out of town on a road trip getting lost in America. Our ultimate destination will be Hickory Corners Michigan, the Model A museum. Not to mention the rest of the Gilmore car museums.
On July 16th the Long Beach Model T Swamp meet was an early start of a long day that ended with us gathering in the late afternoon at La Palma Park for that week's Concert In The Park. Thanks to the Long Beach Model T club for allowing us to promote the Model A hobby.
There was good gathering of Model A's from our friends in Orange County and our own Diamond Tread Chapter at La Palma's Concert In The Park. We parked along the outfield of the baseball diamond and we had 13 vintage Fords on display for enjoyment of the general public.
I have served as President for 6 years and I enjoyed serving. The longer I have been on the board starting with being Vice President the easer it got for me. Bonnie and I have other horizons to pursue. My wife and I are quite motivated to travel… like world travel. See things and go to new places. Some even in a Model A such as US Route 50 coast to coast and Route 66. Here is the point, I would help cultivate one of you to take my seat on the board as President. Just as Vicky Bartlett was my confidant over the years, I will assist any new candidate for President of Diamond Tread. Remember the Robert's Rules of Order is a good guideline to follow but can be overrated some times. I would like to say that my being President was made easier by all of you, my friends. You are like family, which made it easy to lead. If I can do it, anyone can. Let's talk or give me a call please, speak your mind, your opinion is very important.
The next meeting is on Thursday August 10th at 6:30 pm at Calvary Cross Chapel Preschool on 16705 Gridley Rd, Cerritos Ca. I will be there but leaving on a road trip on the 11th. My son will be house sitting the Model A's. God Bless the United States.
Larry Ryan: President
562-484-8415 cells
THE DIAMOND TREAD CHAPTER of THE MODEL A FORD CLUB of AMERICA

July 14, 2022 Board and General Meeting minutes
Calvary Cross Chapel Preschool, 16705 Gridley, Cerritos
President Larry Ryan:

Opened the meeting at 6:35 p.m.


Flag Salute was led by Bill Paige



Secretary LeRoy Kehret:

The minutes of the June 9th meeting were approved as posted

Treasurer Louise Beckley:

The bank balance was stated



Membership Chair Vickey Bartlett:

New members, Arnold and Isabel Valencia of La Palma have a '30 4dr sedan

Memorial gifts are being arranged for Don Henry and Lloyd Ikert


Postage stamps have gone up to $0.60 each



Hospitality Chair Pauline Issa:

Refreshments tonight were brought by Vicky and Bart

August will be Charlie and Joan Sento



Historian / Publicity Chair Bonnie Ryan:
Sends the Chapter news to the Restorer



Tour Director J. C. Stephenson:

Saturday is the Long Beach Model 'T' Swap Meet at Veterans' Stadium in Long Beach until noon. Meet at Wienerschnitzel on Alondra at 5:00 a.m.

La Palma's Concert in the Park begins at 6:00 p.m. Saturday. Gates close at 5:00

Possible future tour to Downey including the Space Center and the Rose Parade Float Ass'n

Whittier Chapter will tour the Nethercutt Museum on July 30th. See their website for details

Fund Raising / Picnic Coordinator Bob Toerge:

Santa Fe Springs as a venue for Henry Ford Picnic is dead, as is La Habra Heights Park

They want $2,100 deposit and $200 / hr.

Other venues discussed were Legg Lake, for the picnic

El Dorado Golf Course for Christmas Banquet. Anyone with a possible venue for the picnic, scout it out, inquire and report back, please



Webmaster Mark Simons:
Is asking for photos of your cars for the website



Henry's Helpers Chair Chuck Mayhew:
Helped Dennis replace his radiator over the phone



Old Business:
Wednesday Breakfasts are good exposure

Consider Grannie's Donuts, 5520 Woodruff at South St.



New Business:
Charlie Sento has a T.V. purchased for the 2020 Henry Ford Picnic. Member Wayne Wiedel, with the Cerritos Optimists would like it for a golf tourney prize. It was MSC to donate it to Wayne




Flashlights are to be given away Saturday and at Concerts in the Park



Raffle:
Bob Toerge - Model 'A'

Linda - Member at Large was absent




1/3 1/3 1/3 won by Linda and Charlie Sento



Meeting adjourned at 8:05
Respectfully submitted, LeRoy Kehret, Secretary

August 9th (second Tuesday of the month)

Red Hot Sparks Luncheon - Cabo Taco Baja Grill - La Mirada
August 11th (second Thursday of the month)

General Membership Meeting -

Calvary Cross Chapel Preschool - 6:30pm

The last of the La Palma Concert In The Park Series for 2022
September 10th

​​​​​​​

Santa Maria's Model A Club's All Ford Car Show and Swap Meet



September 24th

​​​​​​​Paradise Valley Model A Ford Club's 60th Annual Antique Car Swap Meet

​​​​

Meet will be held at the Westen Regional Little League Headquarters, 8707 N. Little League Dr., San Bernardino, CA
October 1st

The Orange County Model T Swap Meet,
3211 E. Chapman Ave., Fullerton, from 7:00 a.m. to 1:00 p.m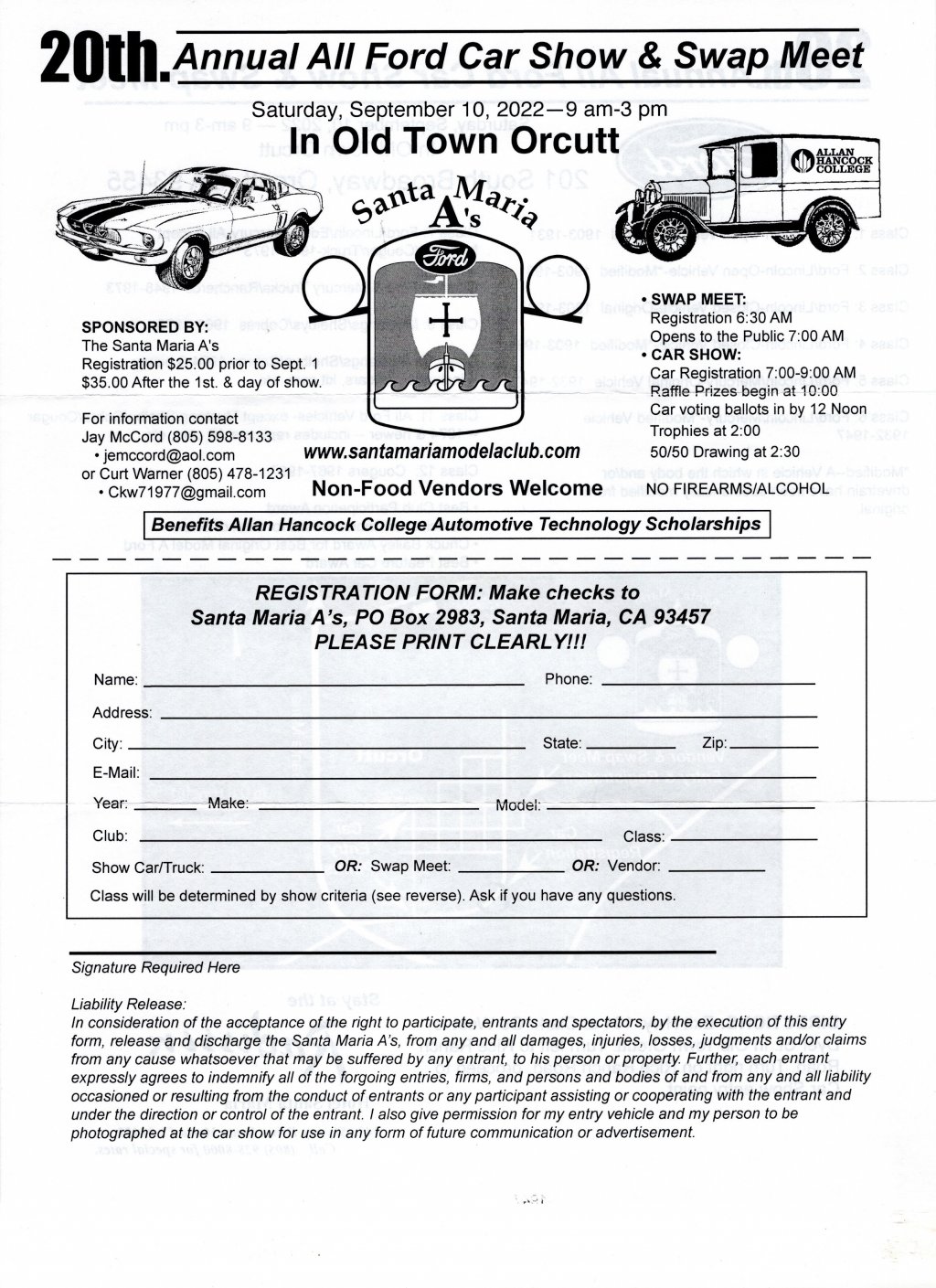 New Members: Arnold & Isabel Valencia and family of La Palma
Welcome to our newest Diamond Tread Members--the Valencia Family!
Arnold shared with me recently about their 1930 Fodor Sedan which he has owned for about two years. He said he had always thought that someday he would get a Model A, but after h is Pops passed away, Arnold decided that someday was now.
He soon learned about a 4 door Murray body-style sedan located up North in Modesto; with his younger daughter, he drove up to see it. He was impressed, and after purchasing it, left it with some friends up north, until he returned with a trailer to tow it home to Orange county. He also told me that he waited for two weeks until he told his wife that he had bought a Model A. Arnold shared with me that his Model A was built in 1930, the same year that his dad was born, which makes it even more special.
With help from our tour chairman JC, Arnold's car is doing well and he is enjoying driving it. He, one of his daughters, and an elderly friend attended a recent La Palma summer concert at the park and enjoyed meeting other Diamond Tread members and their Model A's.

Welcome, Arnold & Isabel, we all look forward to meeting you, your family, and your Model A.

Diamond Tread Chapter MAFCA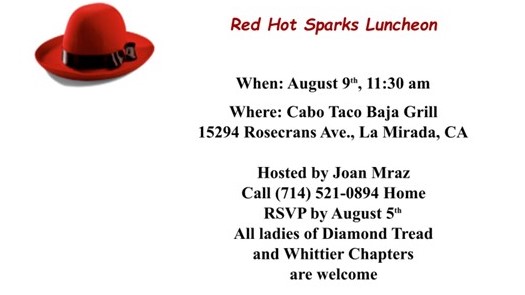 Celebrate and Congratulate
Gary & Emma De La Cerna Gaffney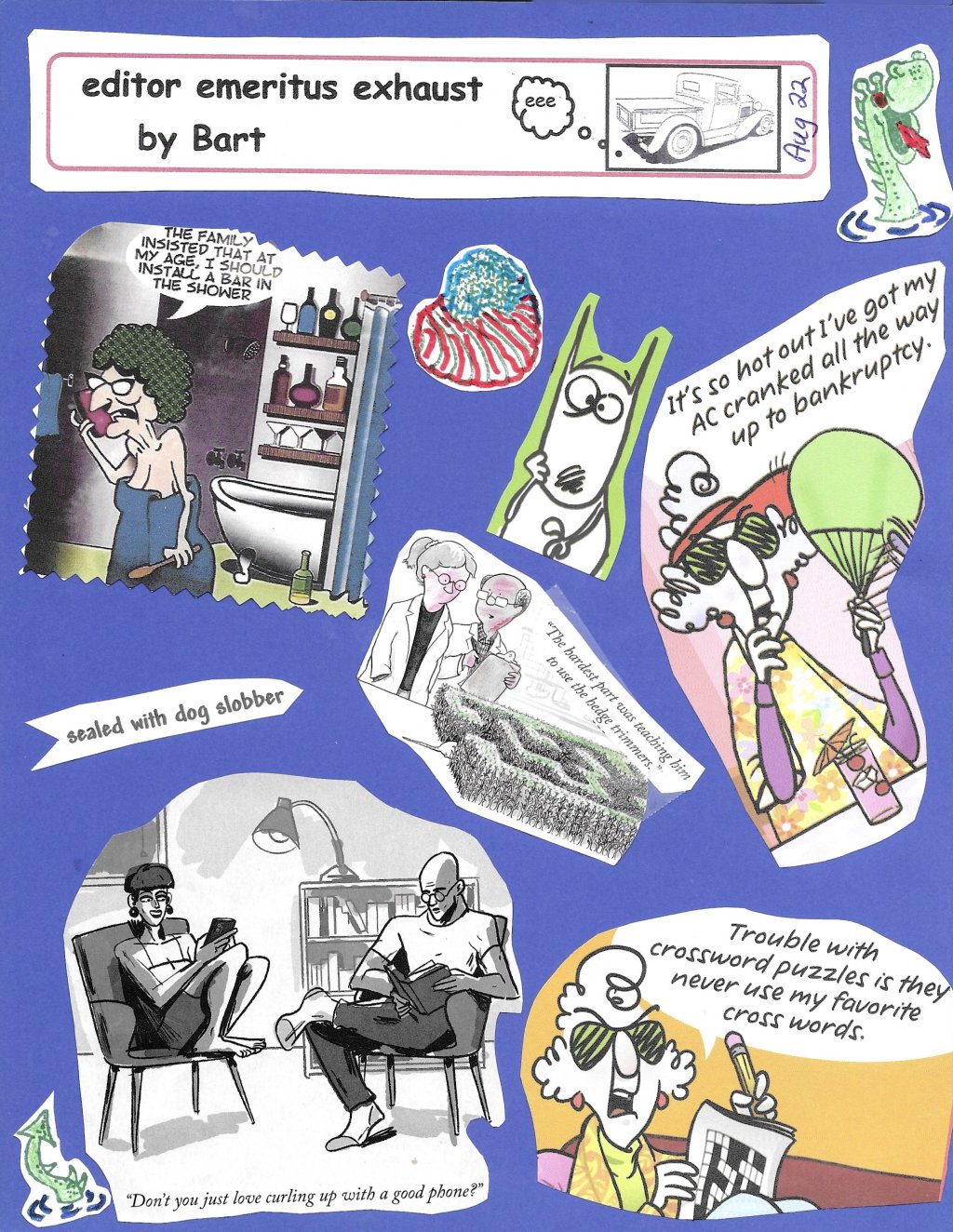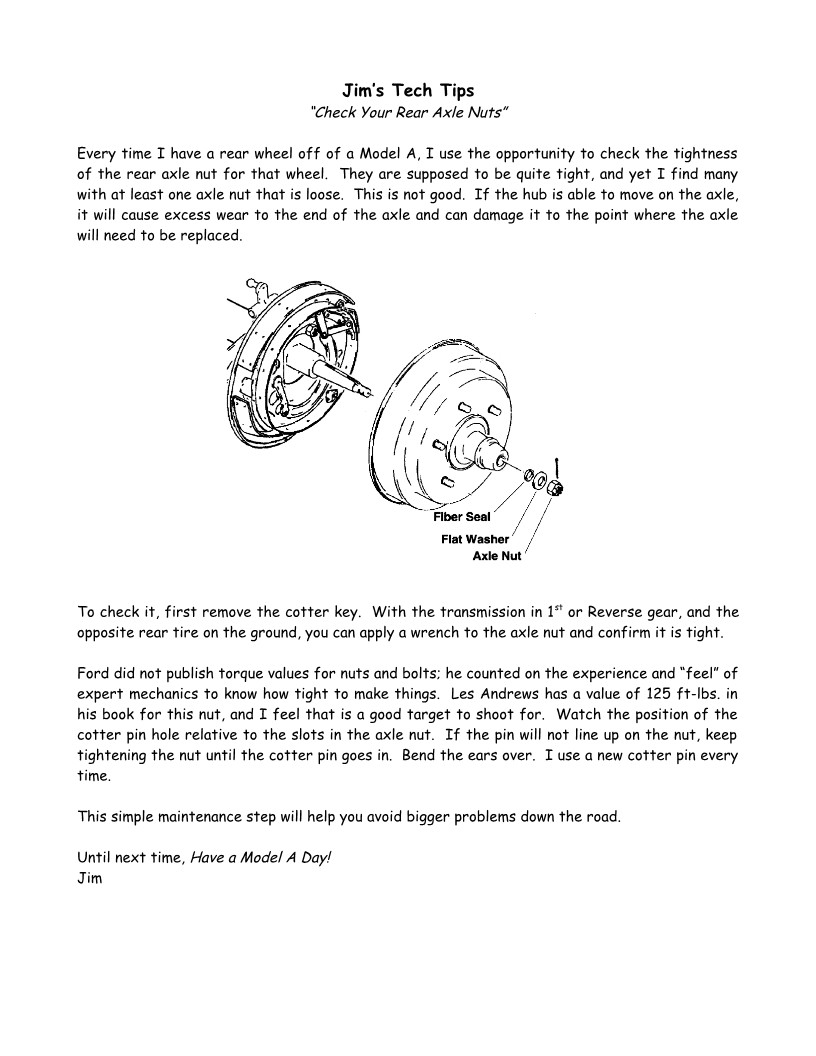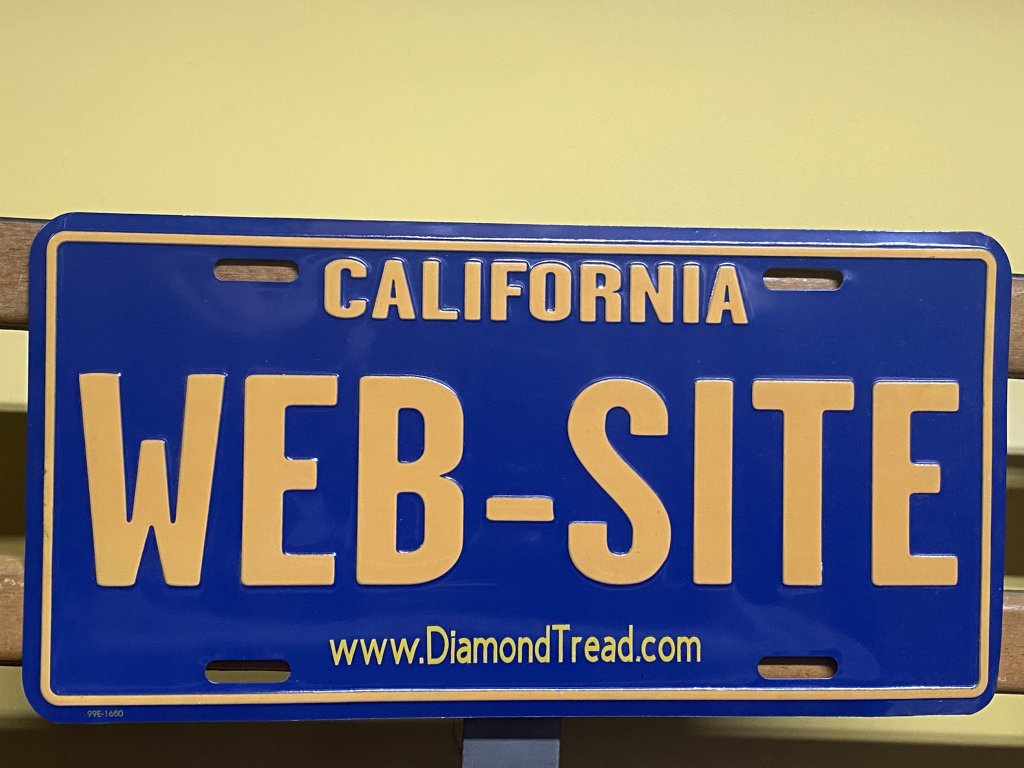 Thank you for visiting DiamondTread.com.  If you have any comments (enhancements, errors, typos, oversights, updates or even an "Ata Boy") regarding the website, please send an eMail to WebMaster @ DiamondTread.com and we will address any issues ASAP.